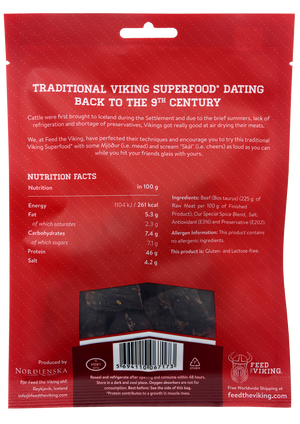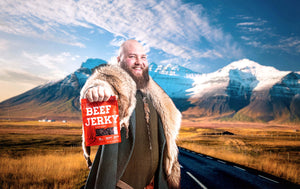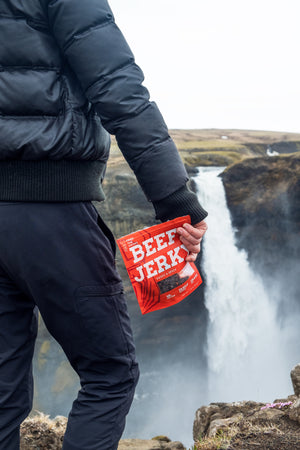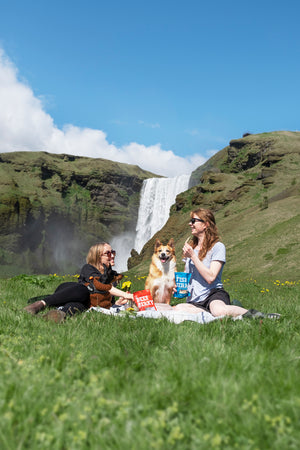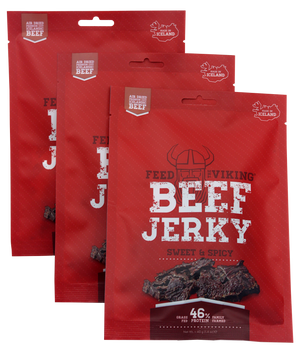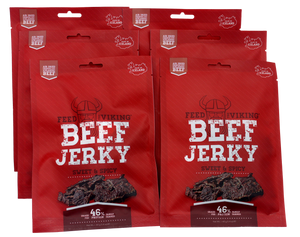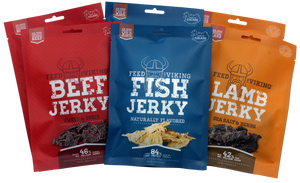 Each bag contains 40g/1.4oz of Marinaded, Air-Dried, Premium Cut, Grass-Fed, Icelandic Beef that has been Family Farmed.
The Icelandic cattle were first brought to the island during the Settlement a thousand years ago. They are especially colorful with a wide variety of colors and markings and have been genetically isolated and protected by strict disease-prevention measures for centuries. Du to extremely brief summers, the lack of refrigerator tech and shortage of preservatives, Vikings used to air-dry their meat. We, at Feed the Viking, have perfected their techniques and encourage you to try this traditional Viking Superfood with some Mjöður (i.e. mead) and scream Skál (i.e. cheers) as loud as you can while you hit your friends glass with yours.
Beef Jerky adds a whole new dimension to your current snacking habits. It´s the perfect snack for sports, activities, and adventures due to its resealable packaging and high-quality protein.
Ingredients: Beef (Bos taurus) (225 g of Raw Meat per 100 g of Finished Product), Salt, Sugar, Garlic Powder, Black Pepper, Chilli Powder, Spice Extract, Antioxidant (E316) and Preservative (E202).
Allergen Information: This product is packaged in a facility that processes our Fish Jerky and may contain traces of COD. 
This product is: Gluten-free, Lactose-free, Milk free.
| | |
| --- | --- |
| Nutrition | in 100 g |
| Energy | 1104 kJ / 261 kcal |
| Fat | 5.3 g |
|   of which saturates | 2.3 g |
| Carbohydrates | 7.4 g |
|   of which sugars | 7.1 g |
| Protein | 46 g |
| Salt | 4.2 g |